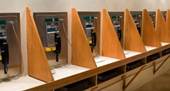 Tired of spending hundreds of dollars a month on prison phone calls?  What if there was a way to save tons of money each and every time your inmate calls you?  In this article I am going to share with you the simple and free way you can reduce the cost of those inmate phone bills.  
How it works
There are two ways you can receive calls from your inmate.  The first way an inmate can call you is collect, which unfortunately we have no way of saving you money.  The second way inmates can make a call is through a third party vendor that provides a pre-paid calling account to the inmates.  There are many different inmate telephone vendors, and your choice of provider depends on the institution your inmate is incarcerated in.  The three largest providers for pre-paid inmate calls are Securus, Global Tel Link, and IC Solutions.
The way that the billing on these companies works is if the call is local to the facility, then it is at a much lower local rate.  If the call the inmate is making is out of area, (long distance) then it will cost much more per minute.  The key is to establish a local telephone number the inmate can call you at.
How you do it
A new Google technology called Google Voice, allows users to sign up for free and choose any number they want.  This number is then forwarded to an existing number (your number) which can be both a landline and a cell phone.  This also can be used as a workaround if your inmate's correctional facility only allows calls to a landline.  
Many people have began to take advantage of this, so numbers in select locations may be scarce.  You will want to sign up for a number that is local to the facility so look for numbers that are not just the same area code but use the same three digit prefix as the facilities phone number.  You can find the facilities telephone number on our website by visiting the facilities page.

The first thing you will need to do is sign up for a google account here.  If you have a G-mail account then you already have a Google account and can just use it to sign up for Google Voice.  The Google Voice website can be found here.  It is very important that you make sure the Google Voice number you select is the same area code as the facility.  The number issued to you by Google Voice will be the number you or the inmate will list on their approved call list, and this will be the number they will dial each time they want to call you.  The Google Voice number is also the number you will use to setup an account through the inmate telephone provider (Securus, Global Tel Link, IC Solutions or similar company).
Be Aware of Scams
Lastly, I want to point out that there are some websites out there that claim to save you money on your inmate phone calls.  They do the exact same thing I have highlighted in this article above, but they will charge you for it.  Don't be fooled by them!  They are not really there to help inmate's and their families, but are merely profiteers, looking to gain a quick buck by charging you for something you can get for free.
If you have any questions, or want to share your experiences using Google Voice to receive prison and jail phone calls please share them below in the comments section.