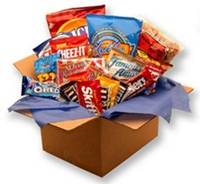 This time of year we get many questions asking about the Holiday package program for inmates. A holiday package, sometimes referred to as a quarterly package, is a care package that is sold by an approved third party vendor that contains an assortment of items for the inmate to enjoy. These packages can contain a multitude of items from various foods and snacks, hygiene products, clothing, shoes, jewelry, electronics, games, puzzles, stationary, and even faith related items.
There is a limit to the number of items that can be sent and is usually restricted to the box size or weight. At no time can you simply buy items, put them in a box and ship them to the institution, it must come from an approved third party vendor (I will go over the different vendors below). All orders have an ordering cutoff date, at which time packages can no longer be ordered for an inmate. It is also important to note that not all facilities participate in these holiday/quarterly package programs.
Some important things you will need to know before ordering is the inmate's full committed name, the inmate's location and the identification number for the inmate. The identification number can be found by doing a simple inmate search (found on our site) using the inmates full committed name.
Holiday packages usually take anywhere from 7-10 business days to arrive at the facility. Please note it may take a few days longer for the package to be delivered within the institution depending on how busy the mail room is. During the holiday season there is a large influx of incoming mail for inmates, and each piece of mail must be inspected which can add a few days processing time.  Also, if the facility goes on lockdown all package and mail deliveries will stop until the lockdown is lifted.
One of the important questions that someone recently asked us was what happens if they order a holiday package for their inmate, and someone else in their family already ordered one. Well, it will depend on the company you are ordering from, but in almost all instances the second package to be received will be returned and a refund will be processed.
Websites that offer Inmate Holiday Package Programs
So now the question everyone is asking, where do I order these inmate care packages from? One of the leading providers of inmate packages is Access Securepak. They provide quarterly/holiday packages to the following states:
Alaska, Alabama, Arkansas, Arizona, California, Colorado, Florida, Georgia, Hawaii, Idaho, Illinois, Indiana, Kansas, Kentucky, Louisiana, Massachusetts, Maryland, Maine, Michigan, Missouri, Mississippi, North Carolina, Nebraska, New Hampshire, New Jersey, New Mexico, New York, Nevada, Ohio, Oklahoma, Oregon, Pennsylvania, Rhode Island, South Carolina, Tennessee, Texas, Utah, Virginia, Vermont, Washington, West Virginia.
Another company that provides quarterly and holiday packages to inmates is Union Supply Direct. Union Supply Direct services the following states:
Alabama, Arkansas, California, Colorado, Florida, Georgia, Indiana, Kansas, Kentucky, Maryland, North Carolina, New Hampshire, New York, Ohio, Oklahoma, Tennessee, Washington, Wisconsin.
If you know of any other inmate holiday package providers please let us know by posting it in the question section below. Also, if you would like to share your experiences with either of these companies please post it below.