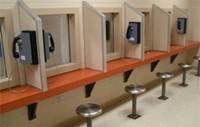 Having someone in jail or prison can create all sorts of communication barriers. For one your friend or family member is now confined to a cell, and only allowed to eat, drink, sleep and talk to visitors when told they may do so. The most common question out there is how can I call my inmate?  The real answer is you can never call your inmate, they can only make outgoing calls to you.  A common mistake people make is calling the facility and asking the staff to relay a message to their inmate.  The staff will never 'take a message' and often get annoyed when asked, so resist the urge and be patient, wait for the inmate to call you collect.  When will the inmate call you? Well the answer is complicated...If the person just got arrested they will be allowed to call after the booking process happens.  If they have been sentenced it could be a while before they are allowed to call anyone, to understand why you must first understand the process the inmate is going through.
Intake and classification
Many years ago inmates were locked up and let out when their time was up, it was a model of incarceration based around punishment.  Today, correctional facilities have adopted a model of rehabilitation, which focuses on figuring out why the inmate committed the crime in the first place, and then trying to recondition the inmate into being a productive member of society.  To successfully rehabilitate inmates, they must first be classified and given a thorough medical, physical, and psychological examination during intake.  The intake and classification process, which can take a day to several weeks, restricts inmates from having visitors, making phone calls, and receiving mail.  The inmates are observed and tested by staff who will classify the inmate into their proper category, resulting in the inmates permanent assigned location and treatment for whatever the panel deems to have been the root cause of the inmates crime.
Things That Affect An Inmates Ability to Make Phone Calls
Several situations may arise that will affect an inmates ability to make phone calls including:
An inmate who has not completed the intake process usually does not have access to the inmate phone system
The facility being on lockdown will cause phone restrictions for all or most offenders
Not enough funds in an inmates telephone account (some facilities will still allow outgoing collect calls)
Severe weather/power outages can result in limited access to inmate phones
Inmates who have been written up for bad behavior/rule infractions can have their telephone access restricted
Some facilities restrict who an inmate can call, allowing only verified family members, or those who are on their approved visitation list.
Lastly an inmate may not be able to make a call simply because he or she does not know your phone number.  In this instance it is best to write a letter with your phone number in it, as well as any other phone numbers the inmate may need.
How the calls work
All facilities have a set time that inmates are allowed to make calls,  sometime between the hours of 8am-11pm but this time will vary depending on the facility.  Inmates usually cannot start making outgoing calls until the morning roundup and count takes place, and if there are problems you can expect there to be a delay in the facility turning the phones on for use. During a lock-down inmates are not allowed to use telephones.
Inmates are allowed to make outgoing calls only, and under no circumstances are incoming calls allowed.  The normal method of calling is by collect call (cell phones cannot receive collect calls).  Inmates can also use pre-paid phone accounts setup through third party vendors.  The following are just some of the companies that provide phone services to inmate:
Securus
Global Tel Link
IC Solutions
Becoming eligible to receive calls
Some facilities will require that you be on an inmate's approved telephone list.  In most cases when the inmate is first admitted they will submit a list of phone numbers that go on this list.  If the inmate didn't have your number memorized then chances are you are not on the list.  But good news, you can be added to the list at anytime once the inmate knows your number.  The best way to get the inmate your number is to include it in a letter you write to them.  Some states like Texas actually have a website setup to register your phone number with the department of corrections, which makes you eligible to receive calls from an offender.
Not all facilities will require you to be on an approved list, but you could still run into problems receiving inmate calls. A common reason someone cannot receive a call from their inmate is because they only have a cell phone, and cell phones cannot receive collect calls.  Establishing a pre-paid account through the above companies can usually circumvent this.  Other problems people run into are not realizing they have collect calls blocked through their telephone service provider.
Sometimes people will have the calls dropped during the middle of their conversation, the cause of this is usually due to a three way calling, or call waiting feature being enabled on your phone.  Call waiting will make the call drop, so if you are experiencing many dropped calls this is something to look into.  Three way calling is also prohibited and will usually lead to the call not even going through.
One more thing you should know, is that all calls are recorded and monitored.  This means it's not a good idea to discuss any crimes the inmate may be accused of, as it could result in additional charges, evidence etc.  
Reducing the cost of inmate calls
The simplest way to reduce the cost of calling someone in jail or prison, is to limit the amount of time you are on the phone with that person, as well as the frequency of the calls.  While this is not ideal because you want to hear your loved ones voice it can drastically impact the overall charge of offender calls.  You should always construct a list of important things you want to ask/talk to the inmate about.  This will help eliminate any lulls, awkward silence moments in your conversation, and will allow you to maximize the use of your time on the phone.  Additionally, it is important to understand that it is far cheaper to make one longer phone call once a week, then several short calls each day.  This is due to the connection fee that is charged for inmate calls.  Less connection fee's equals less money being spent. 

Many people who use the aforementioned companies complain about the outrageous fee's and prices they incur, but there are ways to reduce the cost.  First, you can lower the cost of your calls by having a number that is local to the institution.  The long distance calls through the providers above is what makes the cost skyrocket, so if you can establish a local number then you will save tons of money.
One of the most important things I can tell you is don't get ripped off by companies like InmateAid who charge you a huge fee to give you a local number, when you can get a local number for free online!  We show you how to get a free local number on our Saving Money on Inmate Calls page.
For more specific information on inmate calls you will want to navigate to the facility your inmate is incarcerated in through our site by going to our homepage or clicking the blue bar at the top of the page.  If you have any general questions please post them to this page, any questions specific to inmate calls at a certain facility should be posted on that facilities page.